Epitaxial growth of ZnO film by MOCVD
It has been reported that the ZnO-based LEDs can be grown by growth methods based on physical vapor deposition (PVD) such as molecular beam epitaxy, pulsed laser deposition, and sputtering. However, because of disadvantages of PVD such as low growth rate, small area growth, difficulty of alloy growth and sophisticated and expensive ultra-high vacuum equipment, it is difficult to commercialize the ZnO based LEDs. In the early stage of commercialization of ZnO based LEDs, metalorganic chemical vapor deposition (MOCVD), is very important, because MOCVD has many advantages for the industrial applications such as its high deposition rate, large area and high quality epitaxial growth. However, because of difficulty of growth of epitaxial ZnO film and p-type ZnO film, ZnO based devices grown by MOCVD have shown the intense deep-level emission peaks along with very weak UV emissions. Recently, we reported on the evolution of the surface morphology and the change in the growth mode from three-dimensional to two-dimensional by controlling VI/II gas ratios, resulting in the improvement of the structural, morphological, and optical properties ZnO films.
Growth of ZnO nanostructures
There are several methods to grow the ZnO nanostructures. These growth methods are based on two mechanisms: (1) vapor phase growth and (2) solution phase growth. Methods for vapor phase growth and solution phase growth are diverse techniques including thermal CVD, direct thermal evaporation, MOCVD, electrochemical deposition, and aqueous solution growth, etc. In our group, growth methods using thermal CVD, MOCVD and aqueous solution are well-organized to synthesize the high-quality ZnO nanostructures.
Application of ZnO
ZnO-based LEDs
ZnO-based homojunction LEDs
UV LEDs and LDs are of interest for their potential use in long-lifetime solid state lighting, high-density information storage, secure communication, and chemical/biological agent monitoring. The commercial availability of large-area ZnO substrates and the possibility of performing wet etching make the fabrication of ZnO-based optical devices an attractive prospect, as it would enable the fabrication of vertical-geometry devices with low threading dislocation densities by a simple process. We reported the UV electroluminescence emission from ZnO-LEDs grown by RF-Sputtering method. We have investigated the ZnO-based LEDs and tried to improve the emission efficiency of ZnO-based LEDs by using MOCVD growth method.
ZnO-based heterojunction LEDs
To enhance the efficiency of GaN-based LEDs, it is necessary to replace p-GaN layer with a p-type semiconductor layer which has high hole concentration, as well as appropriate structural and optical properties. The p-type ZnO with high hole concentration above ~ 1018 cm-3 can be produced by MOCVD growth. The p-type ZnO can be used as a hole supplying layer by replacing the p-GaN in GaN LEDs. In addition, the ZnO refractive index of 2.0 is smaller than the GaN of 2.4, allowing an increase in the probability of photon escape in the heterojunction LEDs. Heterojunction LEDs using p-ZnO on InGaN/GaN MQW are expected to have several advantages in electrical and optical properties over the conventional GaN LEDs.
Transparent conducting oxide (TCO)
In most optoelectronic devices such as flat panel displays, LEDs, and solar cells, it is essential to use a transparent electrode such as a thin film transparent conducting oxide (TCO). ZnO-based TCOs have attracted significant attention due to their good conductivity, high optical transparency (in the 90% range), excellent surface smoothness, low deposition temperature, good etch-ability for patterning, good reproducibility, inexpensive and abundant binary compound material. There are many reports on TCO semiconductors based on ZnO such as aluminum doped zinc oxide (AZO), gallium-doped zinc oxide (GZO), indium-doped zinc oxide (IZO), tin-doped zinc oxide (TZO) in large part. Our group has been working in growing the high quality ZnO TCO film and applying the film to LEDs and solar cells as a transparent electrode.
Nano devices and solar cells using ZnO nanostructures
1D nanostructures, such as nanowires, nanobelts, and nanowalls provide a good system to investigate the dependence of electrical and thermal transport or mechanical and optical properties. Nanowires are the smallest dimensional structure with high crystallinity that can efficiently transport electrical carriers. Therefore, many researchers can be exploited to make a number of nanoscale devices such as field effect transistors, emitting devices, sensors, photovoltaic devices, memory devices, and logic circuits. Especially, ZnO nanowires have received considerable attention due to their unique properties, such as a wide direct bandgap (~3.37 eV), a large exciton binding energy (~60 meV), and piezoelectricity. Also, the large surface area to volume ratio of ZnO nanowires has a strong influence on electrical transport properties with surrounded elements. As a result, nanowire FETs are suitable for the understanding of the electronic transport mechanisms with surface interface roughness, size and shape of the ZnO nanowire. In addition, to date, hybrid solar cells incorporated with nanowire array structure have the advantages with efficient light-harvesting and direct electrical pathways for electron-hole pairs. We focused on the field of field effect transistors and solar cells.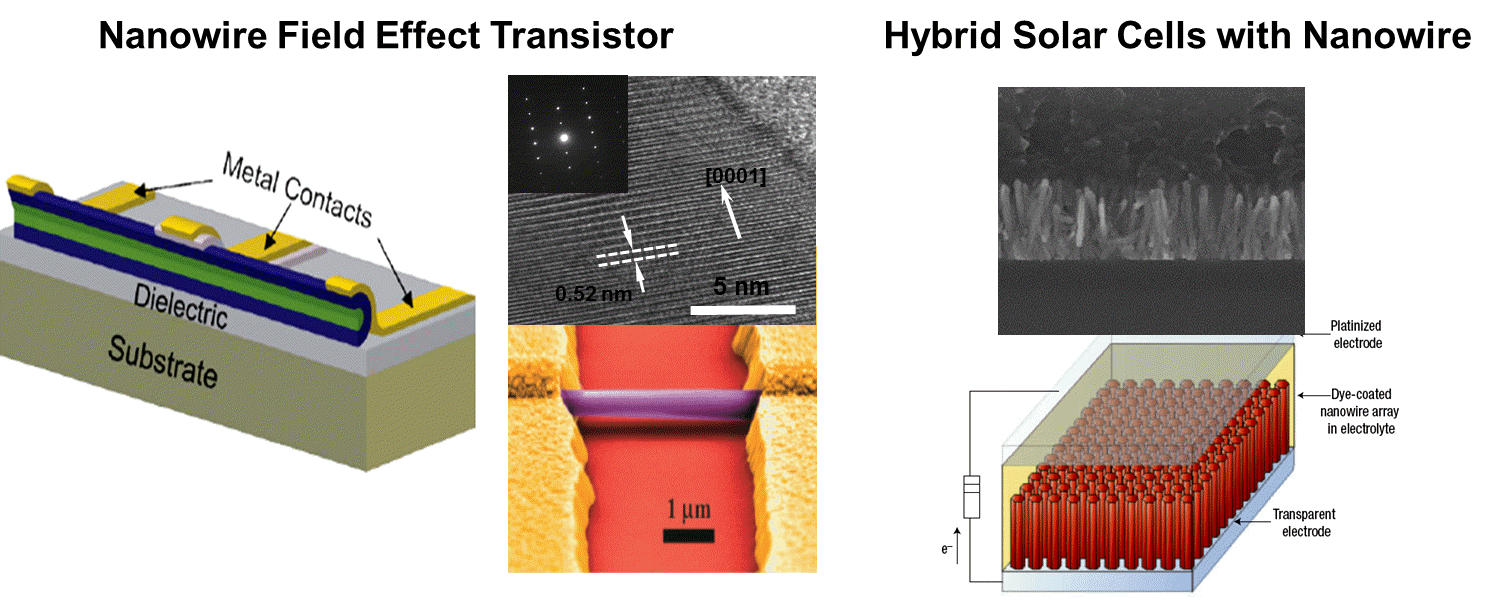 Hybrid ZnO/organic devices
As an alternative approach to the ZnO p-n homojunction LEDs, we have been working in fabricating p-n heterojunction LEDs by introducing organic semiconductors as p-type materials due to the lack of reliability and reproducibility of p-type ZnO. The hybrid materials promise good properties by combining the advantages of both materials such as high flexibility of polymers with the structural, chemical, and high functional stability of inorganic materials. In addition, ZnO can be easily synthesized to one-dimensional nanostructures by using CVD and hydrothermal methods. The ZnO (nanostructures)/organic hybrid structures may lead to various applications in optoelectronic devices such as LEDs, solar cells, and flexible electronics.